Ophthalmologists' Musculoskeletal Health: An Often Overlooked Concern
Abstract
You may be familiar with the adage by Jim Rohn, "Take care of your body. It is the only place you have to live." This wise statement is of extreme relevance to clinicians as we do our best to manage growing waitlists and backlogs, diminishing healthcare resources, increasing patient demands, and the expectation to "do more with less." 
Most of us were never prepared for the impact of these demands on our physical health, mental wellbeing and career longevity. Ophthalmologists, by virtue of the procedural nature of our specialty and the challenges created by the equipment and devices we use every day, are at high risk for work-related musculoskeletal disorders (WMSDs). According to the Canadian Center for Occupational Health and Safety, work activities that are frequent and repetitive or activities with awkward postures produce musculoskeletal disorders that may be painful during work activities or even at rest. These WMSDs are painful disorders of muscles, tendons, joints and nerves. Injuries can result from overuse and may develop over long periods of time. 
References
Epstein S, Sparer E, Tran B, et al. Prevalence of work-related musculoskeletal disorders among surgeons and interventionalists: a systematic review and meta-analysis. JAMA Surg. 2018;153(2):e174947.
Dhimitri KC, McGwin G, McNeal SF, et al. Symptoms of musculoskeletal disorders in ophthalmologists. Am J Ophthalmol. 2005;139(1):179-181.
Diaconita V, Uhlman K, Mao A, et al. Survey of occupational musculoskeletal pain and injury in Canadian ophthalmology. Can J Ophthalmol. 2019;54(3):314-322.
Betsch D, Gjerde H, Lewis D, et al. Ergonomics in the operating room: it doesn't hurt to think about it, but it may hurt not to! Can J Ophthalmol. 2020;55(3 Suppl 1):17-21.
Kent C. Will ophthalmology cripple you? Rev Ophthal. October 4, 2011. Available from: https://www.reviewofophthalmology.com/article/will-ophthalmology-cripple-you
Honavar S. Head up, heels down, posture perfect: Ergonomics for an ophthalmologist. Indian J Ophthalmol. 2017;65(8):647-650.
Mayo Clinic Health Letter. 2000 Mar;18(3).
Fully Adjustable Silt Lamp Eyepieces [image]. Manchester (UK): Takagi Europe. [accessed 2023 Sept 14. https://www.takagieurope.com/fully-adjustable-slit-lamp-eyepieces/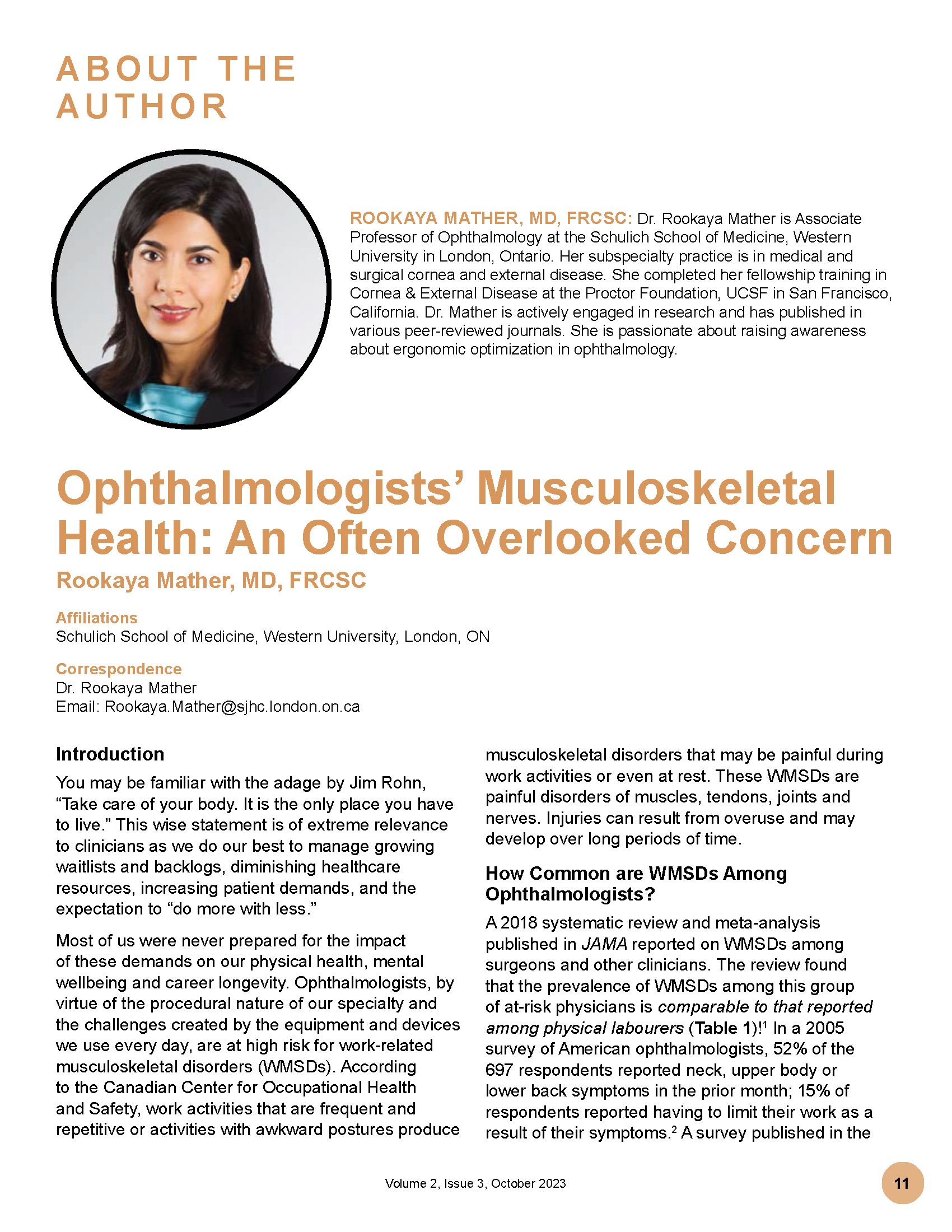 Downloads
How to Cite
1.
Mather R. Ophthalmologists' Musculoskeletal Health: An Often Overlooked Concern. Can Eye Care Today [Internet]. 2023 Oct. 23 [cited 2023 Dec. 4];2(3):11–15. Available from: https://canadianeyecaretoday.com/article/view/2-3-mather
License
Copyright (c) 2023 Canadian Eye Care Today
This work is licensed under a Creative Commons Attribution-NonCommercial-NoDerivatives 4.0 International License.