Environmental Impact of Ophthalmology and Related Action Plan: Sustainability Inside and Outside of the Operating Room
Abstract
Climate change, global warming, or "global weirding" as some experts call it, is now undeniable. Extreme weather events such as flash floods, fires and hurricanes are increasing in both frequency and intensity. These changes are directly influenced by a changing climate as a by-product of greenhouse gas emissions, principally but not exclusively carbon dioxide (CO2) and methane (CH4).
References
Thunberg G, Hayhoe K. The Climate Book. New York: Penguin Press; 2023. pp. 48–52.
Cheng L et al. Another year of record heat for the oceans. Adv Atmos Sci. 2023;40(June):963-74.
Hartinger SM, et al. The 2022 South America report of The Lancet Countdown on health and climate change: trust the science. Now that we know, we must act. Lancet Regional Health - Americas [Internet]. 2023;20:100470. Available from: https://doi.org/10.1016/j.lana.2023.100470
Ellen MacArthur Foundation and World Economic Forum. The New Plastics Economy: Rethinking the future of plastics. Ellen MacArthur Foundation. 2016;(January):120.
Smith M, et al. Microplastics in seafood and the implications for human health. Curr Environ Health Rep. 2018;5(3):375–86.
Bhuyan MS. Effects of microplastics on fish and in human health. Front Environ Sci. 2022;10(March):1–17.
Lelieveld J, et al. Effects of fossil fuel and total anthropogenic emission removal on public health and climate. Proc Natl Acad Sci USA. 2019;116(15):7192–7.
Hobbhahn N, et al. Urgent action is needed to protect human health from the increasing effects of climate change. Lancet Planet Health. 2019;3(8):e333–5.
Wisconsin H, et al. Florida Department of Health/Oregon Health Authority and Southeast Community of Practice. 2017. Climate and Health Intervention Assessment: Evidence on Public Health Interventions to Prevent the Negative Health Effects of Climate Change. Climate and Health Technical Report Series Climate and Health Program.
Istre-Wilz H, et al. Ocular Manifestations of Climate Change [Internet]. Available from: https://eyewiki.org/Ocular_Manifestations_of_Climate_Change
Eckelman MJ, et al. Environmental impacts of the US health care system and effects on public health. PloS one. 2016 Jun 9;11(6):e0157014.
Eckelman MJ, et al. Life cycle environmental emissions and health damages from the Canadian healthcare system: An economic-environmental-epidemiological analysis. PLoS Med. 2018;15(7):1-16.
Morris DS, et al. The carbon footprint of cataract surgery. Eye. 2013 Apr;27(4):495-501.
Haripriya A, et al. Endophthalmitis reduction with intracameral moxifloxacin in eyes with and without surgical complications: Results from 2 million consecutive cataract surgeries. Journal of Cataract & Refractive Surgery. 2019 Sep 1;45(9):1226-33. Available from: https://doi.org/10.1016/j.jcrs.2019.04.018
Thiel CL, et al. Cataract surgery and environmental sustainability: waste and lifecycle assessment of phacoemulsification at a private healthcare facility. Journal of Cataract & Refractive Surgery. 2017 Nov 1;43(11):1391-8. Available from: https://doi.org/10.1016/j.jcrs.2017.08.017
Hermer LD, et al. Defensive medicine, cost containment, and reform. J Gen Intern Med. 2010;25(5):470–3.
Williams RD, et al. Of eminence-based and evidence-based medicine. EyeNet. 2018;9:12.
Chang DF, et al. Survey of cataract surgeons' and nurses' attitudes toward operating room waste. Journal of Cataract & Refractive Surgery. 2020 Jul 1;46(7):933-40.
Tsaousis KT, et al. Comparison of different types of phacoemulsification tips. III. Morphological changes induced after multiple uses in an ex vivo model. Journal of Cataract & Refractive Surgery. 2018 Jan 1;44(1):91-7.
Haripriya A, et al. Changing operating room practices: the effect on postoperative endophthalmitis rates following cataract surgery. British Journal of Ophthalmology. 2023 Jun 1;107(6):780-5.
Zotova O, et al. Carbon-neutral medical conferences should be the norm. The Lancet Planetary Health. 2020 Feb 1;4(2):e48-50.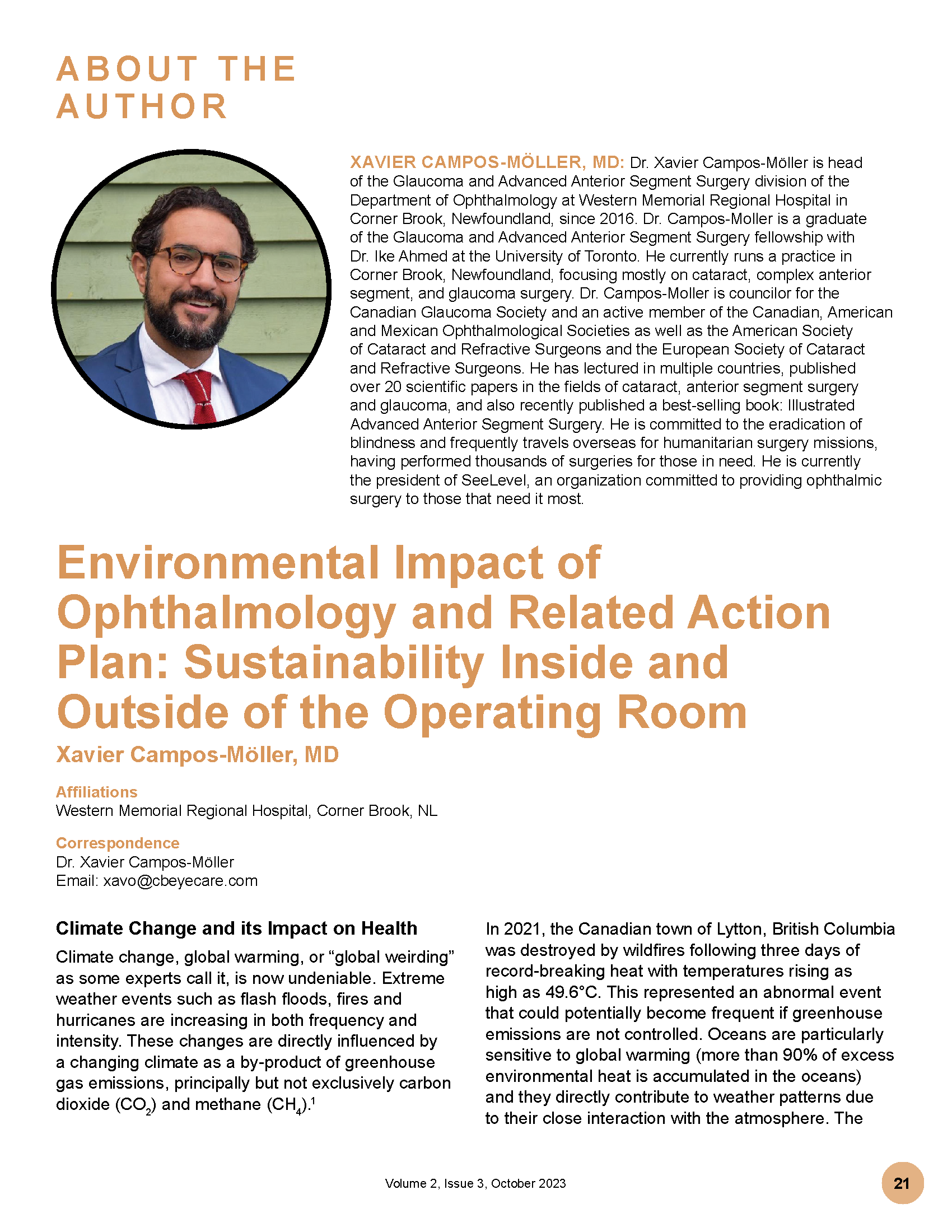 Downloads
How to Cite
1.
Campos-Möller X. Environmental Impact of Ophthalmology and Related Action Plan: Sustainability Inside and Outside of the Operating Room. Can Eye Care Today [Internet]. 2023 Oct. 23 [cited 2023 Dec. 4];2(3):21–25. Available from: https://canadianeyecaretoday.com/article/view/2-3-campos-miller
License
Copyright (c) 2023 Canadian Eye Care Today
This work is licensed under a Creative Commons Attribution-NonCommercial-NoDerivatives 4.0 International License.